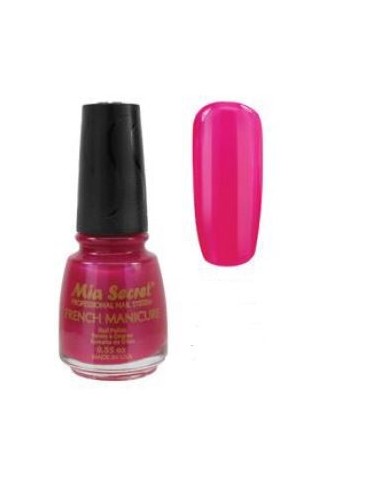  
Ballerina
French Manicure Ballerina 15ml

Mia Secret offers you a wide range of French Manicure nail polishes free of harmful substances: toluene, formaldehyde, DBP, formaldehyde resins, parabens, xylenes, ethyl tosylamide and TPHP (Triphenyl phosphate)
Descripción Ballerina
Formaldehyde: Chemical substance produced on a large scale in the world and used by different industries as a preservative and disinfectant, it has been classified as carcinogenic by the experts of the World Health Organization.
Toluene: May cause nausea, memory problems, fatigue and confusion as it affects the nervous system. In contact with the skin, toluene causes irritation and can even cause dermatitis.
Dibutyl phthalate (DBP): Due to its toxicity, the use of this substance in cosmetic products, including nail polish, is prohibited in the European Union.
Formaldehyde resins: as a derivative of formaldehyde, it can cause irritation and dermatitis
Parabens: preservative that can alter the hormonal balance of the body, an action known as endocrine disrupting.
Xylenes: The main effect of xylene vapor inhalation is central nervous system depression with symptoms such as headache, dizziness, nausea and vomiting.
Ethyl tosylamide: Europe has banned this product due to its antibacterial properties and concerns about antibiotic resistance.
TPHP (Triphenyl phosphate): This chemical makes nail polish more durable when painted. It is an endocrine disruptor and is known to cause developmental and reproductive problems in animals.
| | | |
| --- | --- | --- |
| Reference | Date of Expiry | Stock |
| FM-64 | 2023-02-01 | 15 |
The delivery of the products will be done by order of lot date